May 29 2015 in Top Investors by Fiscal Today
We have all had the dream of inventing the next big thing. The traditional image of an entrepreneur is often associated with a slick corporate suit, highrise building and endless supply of fast flashy cars. This image has a lot to do with a number of 80s movies and their idealised view of the everyday entrepreneur.
So what does a 2015 entrepreneur look like? The modern entrepreneur is likely to be catching the train right next to you. Let's ask Bion Bartning, a modern entrepreneur and investor swimming with the big sharks of New York City.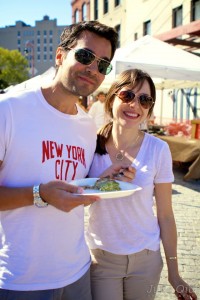 Bion began his career at a software startup in California before moving to Booz Allen Hamilton as a Senior Consultant in 1998. In 2001, Bion got his first taste of social entrepreneurship while working in Africa with Dr. Esther Ocloo, one of Ghana's most prominent entrepreneurial and philanthropic figures.  In 2002, after earning his MBA from Columbia Business School, Bion joined American Express' Strategic Planning Group, where he conceived of and patented an innovative new multi-channel system for booking travel. After one year, Bion was promoted to Director and asked to hire a team and lead the launch of the new consumer online travel business for American Express, which has since grown to over $4 billion in annual sales.
By 2006, Bion was an equity partner and Chief Operating Officer of The Kind Group, a privately held company dedicated to the development and expansion of personal care brands. In 2006, Bion co-founded EOS Products, a revolutionary personal care brand known for its iconic egg-shaped lip balm. Later, Bion expanded his portfolio and invested in Basis Foods, a company focused on making good food accessible, and 100% traceable.
Bion's passion for food derives not just from the typical concerns about health, or the environment (although those issues are important to him). He brings up food security as one of his key motivations to invest in a food venture committed to making good food accessible and affordable. "We face a major threat to our food security, due to the concentration of large companies producing our food. I'm not talking about food security in the bioterrorism sense," he explains. "We are experiencing a rapid loss of genetic diversity, which makes the entire system vulnerable to catastrophic failure. What would happen if something went wrong with one of these companies? What if Monsanto, for example, couldn't deliver seeds one year to the farmers who have become dependent on their genetically modified seedstock? When one company becomes 'too big to fail', this makes our system vulnerable.  We are working toward a more resilient and localized food system."
Bion Bartning is your everyday modern entrepreneur. He has always looked at the big picture, seeking out clear solutions, and believes that passion will lead you to success in the entrepreneurial world. Bion's relaxed nature, and smart casual attire will have you re-evaluating your image of the entrepreneur and perhaps even taking a page out of his book!