Mar 14 2014 in Featured, Personal Finance by Gareth Jones
Filing your income tax returns? It's always hustle-bustle! Some may beg to differ, but people surely get a hard time while filing income tax returns. It's not only the accounts section, but also all the legal stuff that you need to remember and act upon. So, it is better that you make specific note-downs every time you look forward to filing your taxes. It is the easiest way to keep you clear from all the last moment's aggravation. Make a checklist before filing taxes. That actually helps!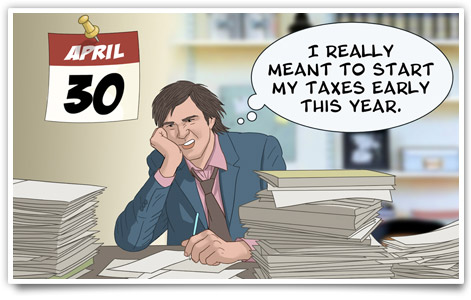 Make a list. That helps you to be organized while filing your taxes either personally or online. There's one thing worthy to notice that when you are filing your taxes in person with free help, make sure you bring photo ID proofs for all the adults in your family.
There are a lot of mobile applications available to file your taxes online. They not only guide you perfectly as how to file your taxes, many of those even have a checklist for the same. Anyways, we have a list of points that you need to look before you file your IT taxes.
Take out your pens and papers, and note the following things:
Collect all the necessary papers and documentation
W-2s Form: It is for every job held by each and every person in the household. The form contains the entire name, wages, and other fiscal policy info.
1099s: They show other incomes altogether that include unemployment, health care, school loans, college bursaries, recompenses, state tax reimburses, gambling jackpots, lottery wins, contractual works, bonded earnings, etc. reported to the IRS.
1098s: The forms that show your payments.
Income/Interest statements: For any received amounts/ saving accounts.
Bank Account Number: The discrepancies of check or bank's routing number, checking your account for any refunds or compensation of any sorts that can be directly credited to your account.
Previous year's tax returns: In case you possess that.
Gathering all the relevant information for everybody in your family
Name: The name spellings of everybody in your household and any supporting documents (Social Security Card (SSN) for the same.
Taxpayers' Number: As it appears in Individual Taxpayer Identification Number letter (ITIN); individual income of every member and number of dependents on gross income.
D.O. B: Date of birth of each and every member in your household.
Relationship: Your relationship with every member of household (Son, daughter, Wife, etc.)
Current Address: Address may differ from the address on your office records.
Gathering the extra official papers to get more refunds
Childcare expenses: Name, address, Tax ID, SSN, of the daycare supplier.
Business Expenses: Self-employed persons and those who have small establishments.
Assets: Property or mortgage that appendages your income
Vehicles: Vehicle sales tax, personal tax assessment for every vehicle that you own, the mileage of your vehicle and so on.
Tenants: In some states, the amount of rent paid also comes into the picture.
Retirements: Amount calculated to the IRA as of December 2013
Collecting replica copies of forms and tax statements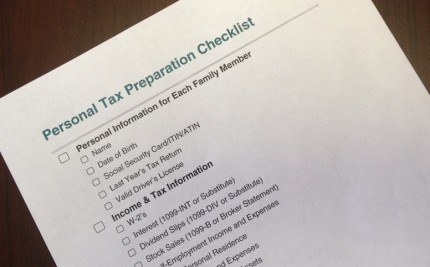 Whatever documentation you collect after filing your taxes, keep copies of it for your safe side.
This document material will make everything easy for you to file your tax in the succeeding year.
It is recommended that you keep all your copies of IT returns for seven years.
The last date to file your taxes is on Tuesday, April 15, 2014.
File your taxes before this date, and don't forget to prepare the above checklist!