Oct 12 2015 in News by Fiscal Today
Early morning on October 12, consumers visited Costco online to find a laptop listed for $0.01. When browsing through HP laptops, the Star Wars™ Special Edition notebook listed for $1,016.99 but when visitors clicked on the item, a new page opened with a new price- one cent. Then if users added on a deal, enhancing the memory or network features, they could successfully add the product to their cart. From there, the laptop price registers as a negative cent, so an add on for $20 dollars appeared as $19.99.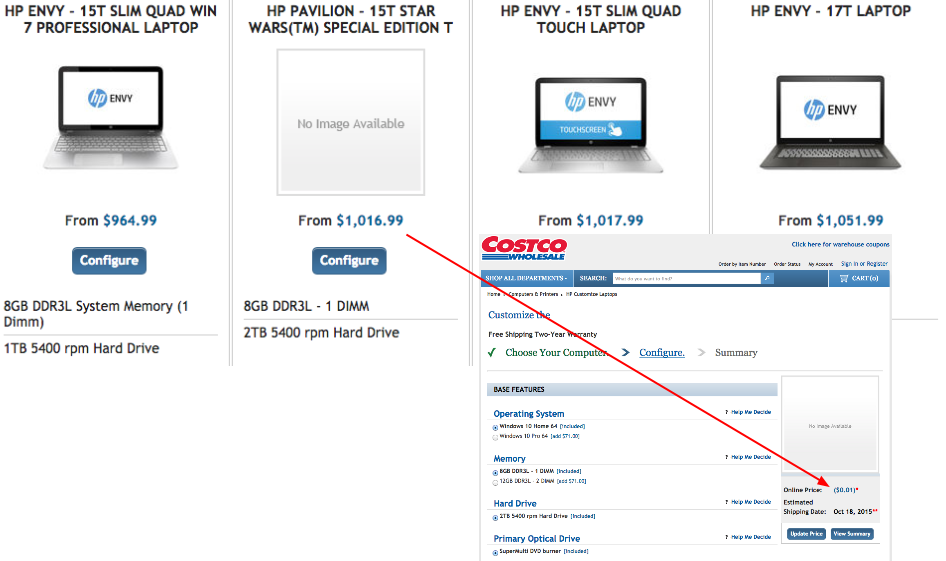 Not only did the webpage confirm the order, but so did a follow up email. Purchases also appeared in buyers credit card histories. News first broke out around midnight on SlickDeals. Orders continued through 9:30 a.m., but became harder to fulfill around 11 a.m. However, as time moved on, the page slowed. Now, the transaction is impossible. Membership was not required for purchases, instead only adding a non-member surcharge. The laptop confirmation email looks incomplete. Again, no image appears but the item number corresponds to a laptop. The automated email confirms the low price and Costco has yet to reach out to buyers about the incident. In fact, Costco has yet to comment on the incident publicly.
The Star Wars HP Laptop is a limited edition product. It offers unique content for Star War fans, including wall papers, concept art, deleted scenes, story boards and more. The laptop offers a HD touchscreen, 12 GB, Intel processors, B&O PLAY audio and a red backlit keyboard, according to the HP website. Costco will need to evaluate the transactions from a business, public relations and publicity standpoint.
Were you able to score the deal? What do you expect will happen next? What do you think Costco should do?
Update: Costco has cancelled laptop orders. However, the company has yet to make a statement or send a response to buyers. 

Update: Costco began sending automated emails in the early evening notifying buyers of the error and dismissing the charge. 
Due to a system error, the web site listed an obviously incorrect price for item #990011 HP CTO Desktop of $–.–. As a result, we are unable to process your order and have cancelled it. Your credit card has not been charged.

We apologize for any inconvenience this may cause. We value you as a customer and appreciate your business. If you should have additional questions and/or concerns, contact us via email or call our Member Service Center at 1-800-955-2292.

Sincerely,

Costco.com Member Service