Sep 28 2015 in Featured, Personal Finance by Chrissy Reese
The popularity of smartphones and mobile applications have made every industry invent ways to serve their consumers. And while some apps cure boredom, others improve productivity. Mobile banking apps have been a natural product of finance and technology. With mobile banking apps, the number of bank visits and phone calls can be almost totally reduced for menial tasks. Now that most banks have mobile banking apps there are certain expectations from users. While depositing checks with smartphone cameras was once revolutionary, it is now just a necessity. To be on top of the mobile banking landscape, banks have to continue asking themsleves what do our users need? And in the mean time, here is the ranking: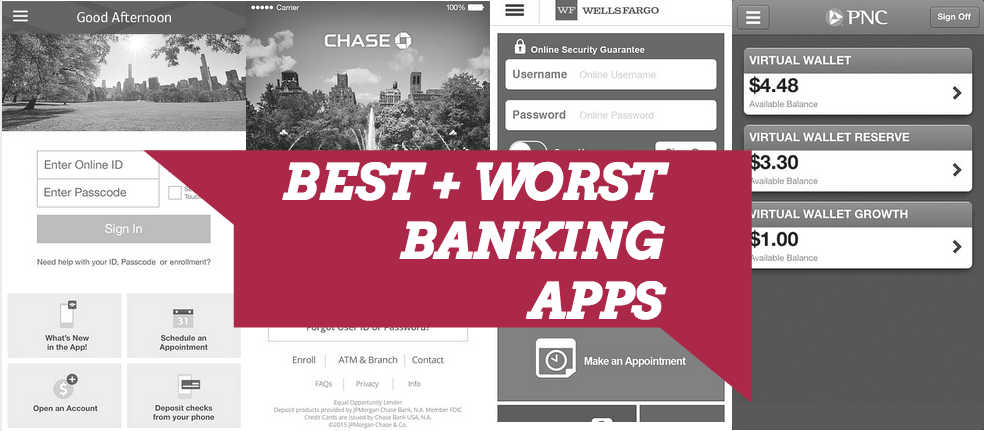 Worst
PNC's mobile app can't get anything right. The app is slow and often crashes, and when it does work it has limited features. There's no touch ID, user interface lacks innovation. Users with the iOS9 update only click the app icon to be told there's an error update. PNC continues to fall behind in mobile app banking originality and functionality.

Good
Wells Fargo members are split when it comes to the mobile banking app. Ultimately, the app works. The biggest complaints center around the lack of Touch ID and unappealing interface. As long as you can deal with an ugly app and typing your password, Wells Fargo should be able to meet mobile banking needs.
Better 
Chase has the making of a great app, but users complain about some functions. Similar to Bank of America, there's Touch ID capabilities. Yet users find it annoying to submit their finger print in addition to their password. Depositing checks has also been troublesome. Nevertheless, Chase updated their app this month and with a few more bug fixes this app can really suit their customers.
Best
The Bank of America app helps users be resourceful, productive and secure in their banking transactions. Users can pay credit card bills, transfer money between accounts, deposit checks, look at Bank of America deals. The app logs off users after a short period of inactivity. Users can even set up a touch ID using their fingerprint. In terms of customer service, the app can provide appropriate phone numbers to open their Bank of America customer service Twitter account. This app isn't missing any features and the customer reviews are favorable.
Check out the app design and key features here by clicking on the images to enlarge.