Oct 17 2013 in Featured, Personal Finance by Chrissy Reese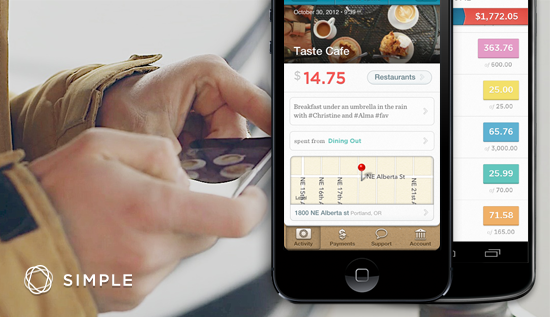 Our Featured Finance Startup this week is Simple, an online and mobile bank, bringing a modern twist to banking. They began in 2009 and finally began sending out invites in July 2012. Currently, this is an invite-only venture - so visit Simple and sign up!
Simple was started out of frustration with banks. We set out to be different. But what we aren't isn't as important as what we are: positive, passionate people who are serious about creating an experience for our customers that's unlike any personal finance product you've ever used. We hope it shows in the philosophy behind Simple.
Fast Facts
| | |
| --- | --- |
| CUSTOMERS | More than a quarter of a million people have requested an invite to Simple and we currently have over 55,000 customers. |
| PARTNERS | Visa®, The Bancorp Bank, Allpoint®, TxVia, Cachet, CPI, and our investors. |
| INVESTORS | IA Ventures, Village Ventures, First Round Capital, Shasta Ventures |
| FUNDING | $18.1 million to date |
| TIMELINE | |
Organize your saving. Spend smarter. Meet your Goals.
Goals helps you balance monthly expenses, major purchases, and everything in between. And Simple does the math for you automatically, so you can make your spending right for your budget.
With Simple, you get a stylish Simple Visa® Card, FDIC-insured banking with no surprise fees, and powerful budgeting and savings tools built right into your account—all accessible via web, iPhone, and Android.
"Current Balance" doesn't tell the whole story. Answer the question 'how much can I spend now?'
You shouldn't have to get out a calculator just to figure out if you can afford a new pair of shoes or a nice dinner out. At most banks, "Current Balance" shows you how much is in your account, but then you have to mentally deduct your upcoming rent, the groceries you're buying this week, and the gift you have to buy for your cousin's wedding. Safe-to-Spend™does all the math for you by taking your balance and subtracting upcoming bill payments, pending transactions, and any Goals you're saving for. With Safe-to-Spend, you get a much more accurate picture of what you can really spend today without hurting yourself tomorrow.
Get a better picture of your finances than ever before.
With Simple, you see your budgeting, saving, and spending all in one place: your account. Goals and Safe-to-Spend™ go hand in hand to help you control and understand your spending while making sure you have enough to pay the bills–and maybe even save up for something special. Save more than you ever have, and stop wondering how much you can spend—give yourself real answers instead.
Go to their site to learn SO much more!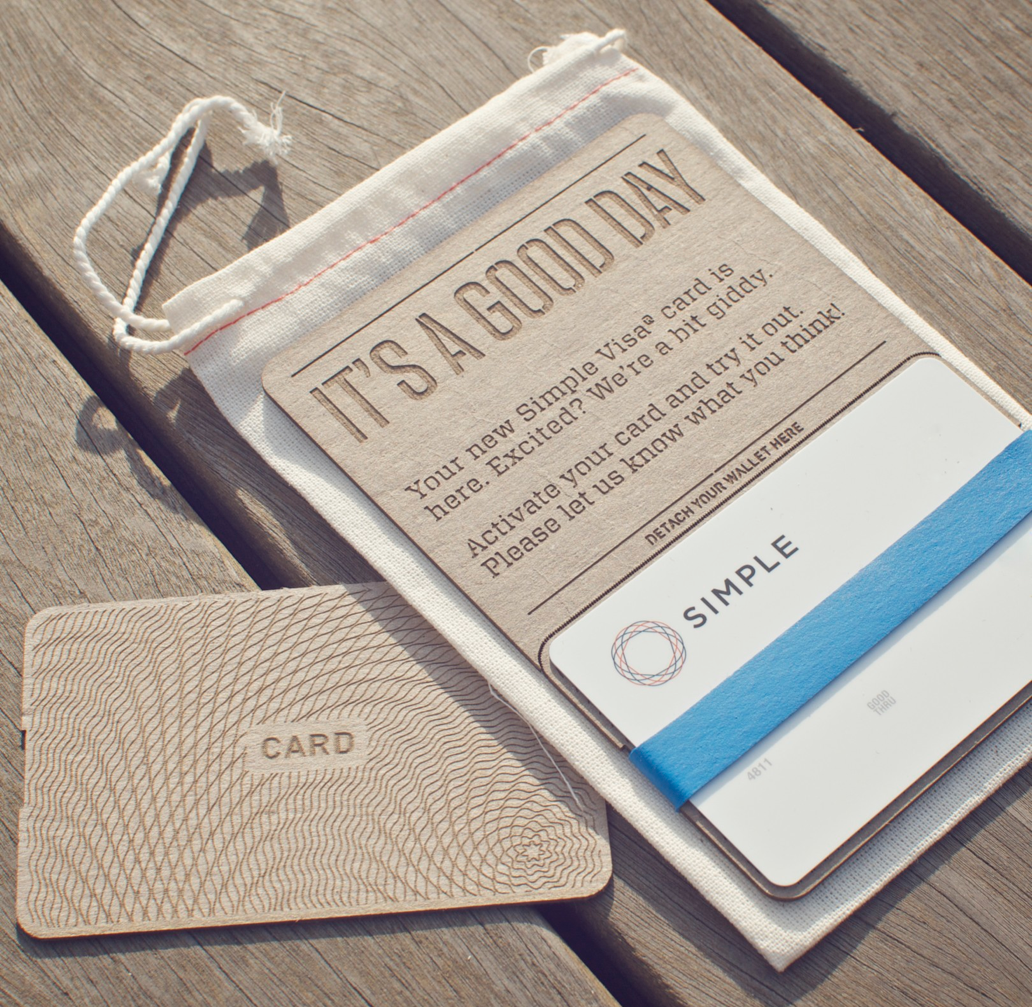 Yes, this is the actual packaging when you receive your Simple card!
Check out this cute and wonderful video from Simple!
Simple Stories: Our First Dog from Simple on Vimeo.
By G+ Author: Chrissy Reese.