Mar 8 2013 in Featured by Fiscal Today
Consumers may one day ditch their plastic credit cards, but that doesn't mean that they'll abandon their credit card companies.
In fact, the move from a leather wallet to a digital one could be a boon for companies like Visa, Mastercard, Discover and American Express.
Digital wallets, which allow users to store their credit cards, retail loyalty cards, coupons and even tickets in digital form on a mobile device, have been one of the most talked about emerging segments of the mobile market. Everyone from Google to Apple to Microsoft to PayPal to wireless carriers and even retailers themselves has been trying to get a foothold in the nascent market. Startups, too, see an opportunity — consider the rise of Square.
While a few of these companies may be trying to build their own payment networks that could eventually replace the major credit card networks, the reality is that consumers already know and trust their existing credit cards. What's more, these networks are complicated to replicate. They're secure and fast. And they are everywhere. So the credit card networks aren't going away anytime soon, which means digital wallet providers will have to work with the big payment networks. And this could mean a gold mine for credit card companies.
"It's absolutely an opportunity for us," said Mario Shiliashki, senior vice president of emerging payments for Mastercard. "We see it as what will help our business grow for the next 10, 20, 30 years, even faster than we've grown in past decades."
Shiliashki said that globally 85 percent of transactions are still cash. Only 15 percent are using some form of credit card payment.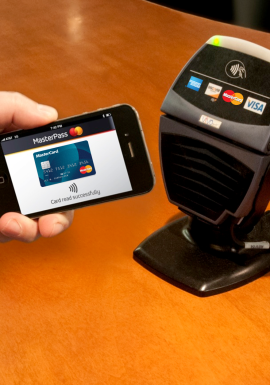 (Credit: MasterCard)
"This gives us a lot of runway to truly revolutionize the world and digitize payments, both in the 15 percent that is already using our credit card networks, but also in the 85 percent that is still using cash."
Shiliashki and other experts agree that the days of the plastic credit card are numbered. But those cards won't disappear overnight. Companies developing the digital wallet and mobile payments will have to give consumers compelling reasons to give up a method of payment that has worked well for them for 50 years. And there is a steep learning curve when it comes to educating consumers about why they would even want a digital wallet. Still, the credit card networks themselves will likely stay intact and thrive over this transition when it eventually happens.
"Over time the plastic card will go away," said Nick Holland, a principal analyst with Yankee Group. "But that doesn't mean the credit card companies won't be in business. In fact, I can't think of a payment system that doesn't settle transactions with at least one of the major credit card networks."
Indeed, Google, PayPal, and the joint venture Isis, which is owned by three of the biggest U.S. wireless carriers, each depend on credit card networks to settle transactions. These companies have each created digital wallets that either reside in the cloud or on a smartphone that stores users' credit card numbers and secure credentials so that consumers can use a special PIN or swipe their phones to buy things at a store.
While the credit card companies would benefit regardless of whether or not they actively tried to develop the digital wallet market, they're not content to sit idly by and allow technology companies, wireless companies and big retailers to steer the market. They also want to be part of the innovation going on here.
It's this reasoning that has led some of the biggest credit card payment networks to experiment in this market. Some, such as American Express and Visa, have launched their own digital wallets. And it's why nearly every credit card network provider is working behind the scenes to make it easier for technology companies, the carriers, and handset makers to interface with their payment networks.
At the Mobile World Congress trade show in Barcelona last week, Visa and Mastercard each made big announcements that they hope will drive deployments and adoption of digital wallets. Visa announced a new partnership with Samsung that will embed its technology directly into devices that use near field communications (NFC), a very short range wireless technology that will effectively turn smartphones into tap-and-go wallets. The partnership could help jump-start the use of this technology, which seems stalled recently.
Mastercard's MasterPass plan
Meanwhile, Mastercard announced its MasterPass solution, a suite of services to make it easier for companies developing digital wallets and other digital payment systems to hook into Mastercard's payment network. MasterPass offers services to merchants to provide their customers with a consistent electronic payment acceptance system whether that's at cash registers or in store aisles. MasterPass also provides online shoppers with a simpler check-out process, eliminating the need to provide detailed shipping information.
It also offers connected-wallet technology to enable banks and other companies looking to develop their own digital wallets a secure cloud-based solution on which to build their mobile payments. Mastercard is also offering the ability for these partners to layer on additional services to their digital wallets, such as the ability to check account balances and receive real-time alerts as well as track and enable loyalty programs.
All of these services are offered to help merchants, banks, and even wireless companies develop their own wallets. For example, a bank may want to create its own wallet, but it may also just want to offer some kind of payment in an existing mobile app. The MasterPass program will help make that infrastructure and the credentials necessary for that transaction available, so that it can easily be added. And it's up to the company building the app or the wallet to choose a technology that works best for them, whether that is NFC or QR codes.
"Our goal is to help our own ecosystem of customers and partners enhance the payment and shopping experience," Mastercard's Shiliashki said. "In a world that is increasingly offering an omnichannel shopping and payment experience, whether it's online or in the aisle of the store from a mobile device, we want to offer them the tools to make those payments easy to connect to our network."
Shiliashki went on to say that Mastercard is focused on enabling the ecosystem. And unlike rivals Visa and American Express, the company is not looking to build a digital wallet that it will market directly to consumers. Instead, he said that Mastercard wants to be behind the scenes.
"Our approach is not to go directly to the consumer," he said. "Our strategy is to enable the entities like banks and phone companies, and even some tech companies who already have these connections with consumers, to enhance their mobile payment offering."
It's still early days for digital wallets and mobile payments in general. And right now it's looking like the Wild West. With so many companies large and small angling for a piece of the market, it's difficult to say which one or even which technology will ultimately win. There are some companies, such as Isis, that are using the NFC model. Google has also come up with a hybrid NFC-cloud approach. And then there is PayPal, which got its start 15 years ago as an online mobile wallet and has been moving into retailers with an in-store solution. There are others likeSquare, which use QR codes.
Shiliashki said that one thing is clear: whatever mobile payment and wallet systems these companies develop, they have to do more than simply give consumers an alternative to paying with their plastic card. He said that layering on additional services that save people time or money or make the shopping experience richer are the only ways to make this transition from plastic to a pure digital method work.
"Ultimately, it's the consumer who will speak and adopt an app that adds value to their lives, whether that's making the shopping experience easier or making it more secure or both," he said. "That's one of the reasons we have taken this path as opposed to trying to build something all on our own. It takes a whole lot of partners to develop these experiences. We can't do it on our own and neither can anyone else."
The following two tabs change content below.


Latest posts by Fiscal Today (see all)