Nov 26 2013 in Company Buzz by Chrissy Reese
With big businesses expanding their chains and big box stores opening all over the country, will the "mom & pop" shops be able to survive? These small businesses, which are commonly independently owned, are a strong contrast to the franchises and large corporations that seem to be taking over. The debate has been a hot topic of discussion for a while as week after week the news reports one or the other chains opening up in some town and the locals have to fight them to prevent them from taking over.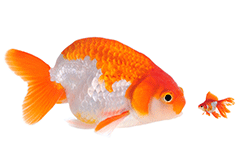 Jennifer Gross, Customer Communications Specialist at Kroger, says that the current trend for supermarkets is to offer more than just food to their customers. Having a more variety and more services available under one roof lets customers cross off more on their list in just one trip rather than having to make multiple stops.
If today's market teaches us anything, it's that every successful business has to have a niche, which is a nearly impossible target of big box stores to accomplish because of their aim to have identical stores all over the country. In order to be successful, they need to purchase their goods in bulk so that they can sell their merchandise at low margins. As long as a mom and pop business is unique, there's a very strong chance that they'll be successful.
Janet Harrah, an Economist at the North Kentucky University, speculates that even though customers want bigger stores, there's still room for the small neighborhood market. One such example is Kremer's Market in Crescent Springs. The quaint little business has developed a loyal customer base and its owner, Tom Heist, explains that the secret lies in providing quality merchandise with a personal touch.
Overall, the reality of the situation according to economists still is that independent grocery stores and other small businesses are slowly fading off the map because profit margins are becoming difficult to maintain and competition from large grocery chains is too large of a battle to win.
By G+ Author: Chrissy Reese.
The following two tabs change content below.

Chrissy Reese
Writing about this wild, crazy economy and the finance world we live in!

Latest posts by Chrissy Reese (see all)